CAS/CL Clinical Cell Analysis System
The most trusted standard in cell counting and analysis
Built on the original corner-method for cell counting, the CAS/CL Cell Analysis System not only does the math, but also shows you all its work. It's accuracy you can verify and rely on.
Corner Method: How it Works
1. Each cell is analyzed individually. Its number of sides, area, and perimeter are displayed in the cell table.
2. Mean and standard deviation are calculated for the selected sample.
3. Total area, number of cells, cell density, hex %, and coefficient of variation mean are calculated and displayed in the analysis window. Mean and standard deviation are also calculated for multiple samples.
4. Histogram is generated and displayed automatically. From start to finish, you can analyze 100 cells in just 3 – 5 minutes.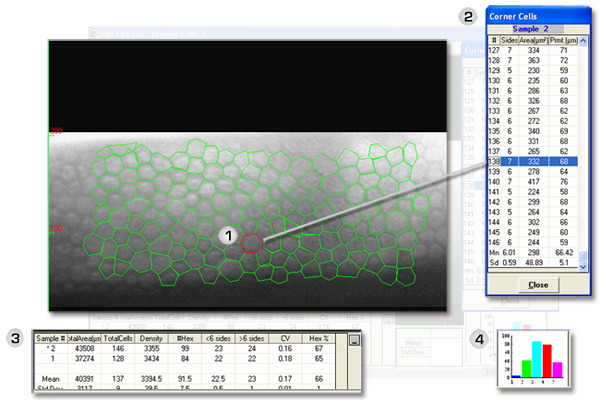 More Information
HAI CAS / CL Version is a clinical automatic cell count and analysis system with image enhancement and database functions. It is compatible with all existing specular microscopes, both contact and non-contact models, and handles small- to large-scale clinical studies, from pharmaceutical to instrumental.
With HAI CAS / CL Version, you can create and manage multiple databases. For example, in a clinical setting, each doctor can create and maintain his/her own database. For clinical studies, separate databases may be used for each study group. Finally, unlimited calibration groups can be set up for a variety of studies.
Features of HAI CAS / CL Version
Windows XP software
Full-screen, real-time imaging
Sequence capture function
Import/export images and clips
Internet / intranet capability
Cell Analysis System
Cell density, polymegathism, pleomorphism
Statistical, histogram, and correlation analysis
User can set up unlimited calibration groups
Suitable for all studies
Interfaces with:
Other capabilities
Unlimited enhancement for live and captured images
Create and unlimited databases
Generate multiple reports
Laser printout on plain paper